Former New Zealand champions Sue Wightman and Ann Muir combined in victorious fashion to take out the 2020 Birkenhead Women's Open Pairs, with the Northland composite continuing their fine run of form at the event over the last three years. More here
Bowls NZ Coach of the year.
Congratulations to Ann Muir.
"From Anne's P Team"
Gwen Lawson is thrilled with the Queen's Service Medal she received in this year's New Year's Honours. But even more thrilled and humbled by the work that her many fans must have put in to nominate her for her service to sports administration over 64 years, including lawn bowls.
Her fans must have been lining up to get a piece of the nominee action. So much has been her influence on lawn bowlers in Northland, and for that matter, the rest of New Zealand. That's without even considering her lifetime of voluntary work in sports including netball, marching, softball and basketball, and in community organisations like Solo Parents.
Gwen has not only been there, done that when it comes to voluntary service … but is still being there, doing that coming up to the age of 80.
"Lawn bowls is my great love," says Gwen, "but it wasn't my first love. I joined marching when I was just 8, and I was on the marching Association Committee by the age of 15." Gwen found herself being a marcher, an instructor, and a qualified judge for the New Zealand Marching Association from 1960, as well as New Zealand Association Treasurer from 1992 to 1994.
In the 50s and 60s she became involved in netball. Like marching, netball was about more than just playing the game. Gwen ended up as Association President for Netball from 1960 to 1962 and an Umpire for Netball New Zealand for 30 years from 1954 to 1985. In 1979, the Northern Advocate described Gwen as a 'pillar of North netball'.
Lawn bowls didn't come in to her life until 1972, when a girlfriend talked her in to having a go at the Hikurangi Bowling Club, a few miles north of Whangarei. "I loved it," says Gwen. And the 46 year association with lawn bowls and the Hikurangi Bowling Club was born.
She was a solo mum for eleven years before her second marriage to 'Sparkie' in 1989, which these days has blossomed in to 6 grandkids and 5 great grandkids. It wasn't until 1986 that Gwen realised that there was more to bowls than playing, and she became the multi-titled and multi-tasked Secretary, Treasurer, Delegate and Executive member of the Northland Women's Bowling Association.
That simply opened the floodgates.
In 1991, Gwen became The President of the Umpires Association as well as the President of Hikurangi Bowling Club. The following year she became the Hikurangi Centre Delegate – a position she still holds.
She collected another presidency in 1995, becoming President of the Northland Women's Bowling Association. The same year she volunteered to be the Secretary & Treasurer of the New Zealand Women's Umpires Association.
In 1996, Gwen widened her administrative portfolio, becoming a Registered Coach, assisting the Director of Coaching in the northern area.
Bowls Northland must have thought all their birthdays had come at once having someone to endlessly volunteer like Gwen. "I became a Selector, Coach and Manager of Northland Representative Teams from 2000 until 2016," recalls Gwen, "an Executive Member in 2002 of the amalgamated Bowls Northland and served 15 years on the Board, including three years as President and Chairperson from 2011-2014. She became Events Manager and Match Committee Chair in 2003 and currently holds that position.
Meantime she had taken on just about every voluntary job there is to take on in her home club of Hikurangi – Treasurer, Secretary, Match Committee Member, Bar Manager, Caterer … you name it. She has also joined the closer-to-home Kamo Bowling Club, where she enjoys just playing as a club member.
Until 21 years ago, Gwen was also working a full-time job in Whangarei. And 'annual leave' was about going to the Nationals every year and playing in the tournament with friends. "I went 16 years in a row," says Gwen, "we even got through to the last sixteen and quarter-finals a couple of times".
These days, she just likes to go to the North Island Chartered Clubs Tournament – in November 2018 it was in Tokoroa. "The four of us have a ball," laughs Gwen.
In May, Gwen and her family will find themselves at Government House in Auckland, where she will be invested with the Queen's Service Medal. "I am looking forward to it," says Gwen. The QSM will accompany another of Gwen's service awards received in 2009 – the Sport Northland Service to Sport Award.
It's great recognition for someone who has done, and continues to do, so much for lawn bowls.
Thanks for everything, Gwen.
sports nnthland 2022 awards
Gwen Lawson : Still loving bowls after 50 years more here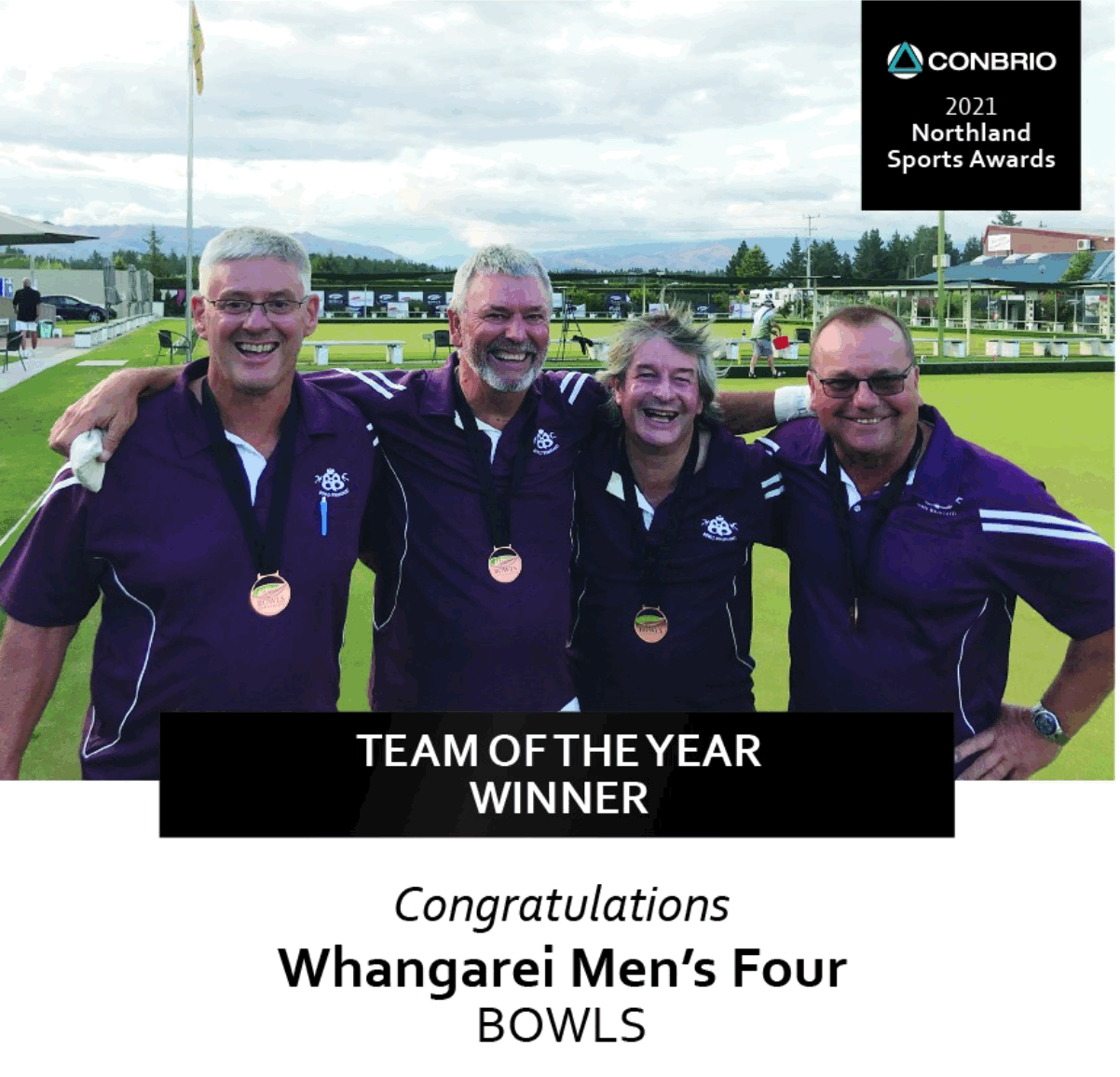 2022 Team of the Year went to the Whangarei Men's Four Bowls Team for their 3rd equal placing at the New Zealand National Fours tournament and their consistent form throughout the year. The team consisted of T Reader, P Price, P Shotter and S Smith.
Northland Women take out New Zealand Intercentre Title
Northland's national champs, Diane Lawrence (back left), Marny Jones, Maree Attwood, Sue Wightman, Maureen Parker and Lauren Mills; coach Ann Muir (front left), Leanne Stewart and manager Jane Walker.
Northland has broken a 23-year drought in taking out the national women's bowls title.
To do so, the team beat Nelson 2-1 in the final at the Howick Bowling Club in Auckland, after losing to the same team 2-1 in section play at the New Zealand intercentre championships.
Northland's Fours - Maureen Parker, Maree Attwood, Lauren Mills and Diane Lawrence - got the side off to a winning start 15-10, leading all the way. Nelson was restricted to scoring on just five of the 15 ends.
The Northland pair of Marny Jones and Leanne Stewart never let their experienced opposition Val Smith and Kirsten Griffin into the match and reversed a section play defeat by winning 18-6, handing out Smith and Griffin's first loss of the championships.
Nelson's Jo Edwards was poised to keep her unbeaten Intercentre Singles record at 23-22, when Northland took an unassailable 2-0 lead, and so the singles game was conceded to Edwards.
The Northlanders had earlier beaten North Harbour 3-0 in the semifinals.
In the men's competition, Auckland beat Canterbury 3-0 to win the title.
Northland had finished third in Section Two on 36 points.
NZ Masters Bowls Auckland

65+ Ladies Pairs: Winners Ann Muir, Madeline Yovich R/UP Maureen Parker, Pam Brewster.

65+ Ladies Fours: Winners Maureen Parker,Pam Brewster, Diane Strawbridge, Ann Muir.

45 to 65 Ladies Pairs: Winners Diane Strawbridge, Carol Neerly.

65+ Mixed Pairs: Winners Diane Strawbridge and Bill Harris.
David Eades, Kevin Robinson and Wayne Wrack.
New Zealand Club Championship
​
The great Millie Khan played an important role in Bev Corbett's bowls and she recalled the influence when she won her 10th New Zealand title in Dunedin yesterday.
Corbett skipped the winning Hinuera team from Waikato that won the New Zealand Club Championship women's triples with Debbie White and Jocelyn Holten.
They dominated the Manawatu team of Mere Fryer, Georgie Kahui Rogers and Bev Budd (Terrace End) from the start and won 21-4.
Corbett (70), a Waikato dairy farmer, won her first title in Dunedin in 1997 in a four skipped by Khan, who was one of New Zealand's best international female bowlers.
``Millie was a great inspiration and encouraged us a lot,'' Corbett recalled. ``She was so relaxed and just took everything in her stride.''
Corbett made her mark on the eighth and ninth ends to put the game out of reach of Terrace End.
She added bonus shots on both ends to extend the lead to 16-3 and ended the game with a toucher on the final end.
The early pace was made by White, a Matamata banker, with her accurate draw bowls. She was always close to the jack, and made two touchers while gaining her third national title.
It was the first individual national title for Holten, who has been a member of a winning interclub sevens team.
Terrace End lead Bev Budd (87) showed she is not too old for top-flight bowls by gaining two touchers with her lead bowls.
The Northland team of David Eades, Kevin Robinson, and Wayne Wrack (Maungaturoto) won the men's title by default when the Browns Bay team of Neil Fisher, John Walker and Colin Rogan decided to catch a plane back to Auckland instead of fronting up for the final.
It did not detract from the merit of Maungaturoto's win because they dominated the semifinal when they beat Paritutu (Taranaki) 20-6.
It was especially memorable for Wrack (70), a retired greenkeeper, who won his first national title after 41 years of bowls.
It was also the first national title by a men's team in the 91-year history of the Northland Bowling Centre.
``It feels brilliant,'' Wrack said. ``I've finished runner-up once before but this was special.''
It was the third national title for Eades, who won his other titles when he lived in Nelson.
Two Otago teams made the quarterfinals. The Clyde men's team of Howard O'Donnell, Conor Muir and John Carvell was beaten 21-6 by Paritutu's Darren Goodin, Midge Shaw and Peter Goodin.
The Taieri women's team of Jude Robertson, Jean Young and Beth Brown lost to Terrace End 17-6.
Dennis Brewster (Hikurangi) had a win over the world singles champion, Shanon Mcllroy at the NZ intercentre finals in Wellington last weekend.
Dennis Brewster/Shanon McIlroy
Northland at the National Intercentre at Wellington
The current champion Northland womens team played at the Massey Ave club on day one of section play endeavouring to defend their national title. Three rounds were played in cool blustery conditions. Northland went straight to the lead and held that position after day 1. The highlight being the 3 from 3 record of the pairs of Marny Jones and Leanne Stewart, this included a victory over current blackjack Angela Boyd and partner Pam Phair from Canterbury.
Five more wins from six games on day two at the Wilton club ensured Northland qualified top of the section ahead of Auckland and Wairarapa 3rd.
The team faced a fired up Waikato unit at a very chilly Johnsonville club in the first knock out quarter final. The fours skipped by Maureen Parker recorded a solid 18-11 win. The pairs and the singles played by Sue Whitman fought courageously but were unable to stem the Waikato attacks thus ending Northlands hopes of a repeat title.
The Northland men travelled to Island Bay for Day one. The day started fine but the prevailing northerly wind strengthened throughout the day making conditions difficult. Only 2 wins from the first two rounds left Northland in 5th position. Round 3 was the turning point with a clean sweep and the elevation to 3rd position.
Day 2 at Massey Ave club would prove to be the testing ground for Northlands determination.
The Northland charge started sensationally with Dennis Brewster stunning the crowds with a comprehensive and decisive victory over the current world champion Shannon McIlroy 25-22. At one stage leading 22-14. The McIlroy fight back was impressive but the consistent accurate drawing from Brewster won through in the end. This spurred on the rest of the team and was sitting equal third leading into the final round. Only a clean sweep would be good enough to qualify. Brewster won again beating Kapiti Coast, The fours skipped by Gordon Bond despatched Nelson 18-10. The pairs of Sam Nelson and Dean McMurchy who played magnificently but without any luck where just denied with a 16-16 draw with Gisborne East Coast. The team finished 3rd, 1 match point behind Waikato and Nelson 1st.
All of Nelson's losses were to Northland and Northland also had a better points differential than Waikato. With a bit of luck this result could have been very different.
Northland can be very proud of the performances and conduct of all the Northland representatives.
​
BOWLS NORTHLAND SPORTS AWARDS RESULTS 2016-2017 SEASON:
​
COACH OF THE YEAR: ANN MUIR
Ann has been involved in Coaching at a Club, Centre and New Zealand level for a number of years.
Was appointed Head Coach and a Director for the NZ Blind Lawn Bowling Association for the World Championships in South Africa where the team returned with two silver medals. She set up the campaign for the trip, was responsible for their pre event training in South Africa and was responsible for training camps prior to their departure.
She is an accredited Bowls NZ Coach Developer and is currently Director of Coaching for Northland. She was the Coach of the Northland Women's representative team who this year competed in Wellington.
She is a member of the Northland High Performance Panel and is a club coach at Kensington.
TEAM/SIDE OF THE YEAR: MAUNGATUROTO MEN'S TRIPLES TEAM
This team was made up of David Eades, Kevin Robinson and Wayne Wrack and won the Northland Open Men's Triples event and represented their Club and northland at the New Zealand finals of the event. They were successful in winning the National title and became the first Northland men's players to win a NZ title since the inception of the Northland Bowling Centre.
These players also combined together and with other combinations to win five World Masters titles at the recent World event held in Auckland.
GREEN KEEPER OF THE YEAR: WAYNE NEAL – MANGAWHAI
The greens at Mangawhai Club have been outstanding in the 2016-17 season and it is all thanks to this man. They are rated highly by top New Zealand bowlers . Grass coverage has improved each since he took over as green keeper and his ability to control disease is incredible.
The high standard of these greens is reflected in the number of Northland Centre fixtures that have been held there during the current season.
FEMALE PLAYER OF THE YEAR: MAREE ATTWOOD – KENSINGTON
Maree has had an outstanding year, winning two gold medals as skip of teams at the recent World Masters Bowls. She has represented Northland in the Women's representative team, playing three in the fours who qualified in the last eight of the NZ event.
At Centre level she was skip of the successful Kensington Champ of Champ triples team and was runner up in the Champ of Champ Fours. Was a member of the successful Kensington Inter Club Sevens team in Division 1.
At Club level she won the Triples and Fours titles as skip, Mixed Pairs and was third in the Club Singles and the Club Pairs.
MALE PLAYER OF THE YEAR: WAYNE WRACK – MAUNGATUROTO
Wayne was a member of the Maungaturoto Men's Triples team, playing as lead, who won the Northland Centre title and then proceeded to win the event at the NZ Final of the Club Championships. He also won the Northland Centre Open Singles title for the 8th time succeeding the late Bill McMillan's record of seven singles titles in Northland.
Outside of Northland he represented North Harbour in the Inter Centre event, playing the pairs and the team was placed second in the NZ final. At the World Masters Bowls events he was in the winning combinations for the Fours, Pairs and Mixed pairs. Three gold medals was not bettered by any other competitor. He reached the quarter finals of the Queensland Sunshine Coast International Open singles in Australia. He won the Ivan Kostanich Open Singles, North Harbour for the second time.
At Club level he won the Club Championship singles for the 14th year.
ADMINSTRATOR OF THE YEAR: GWEN LAWSON – HIKURANGI
At Centre level Gwen has been a member of the Bowls Northland Board since 2002, this being her 15th year in this position and is a member of the Constitutional Committee. Has been Events Manager and Chairperson of the Operations Committee responsible for the running of all Regional and Centre tournaments throughout the year. Has been on this committee since 2002.
At Club level holds the position of Club Treasurer and has just served her 19th year in this position. Has been Acting Secretary of the Club for the past 6 months. Is responsible for catering for all Club events and for organisations who hire the club facilities. Currently holds the bar licence as Manager at the Club.
Is an accredited NZ Coach and has been involved in the Coaching Association ' flying squad' as organiser for training and coaching at a club level and for new bowlers.
As a registered Umpire is a member of the Umpires Association Executive committee and an active umpire.
Is currently a reporter for bowls in the local paper, The Northern Advocate, reporting on Centre results and activities weekly throughout the year as well as reporter for the Hikurangi Club in the local Hikurangi Bulletin on a monthly basis.
SERVICE TO BOWLS: ALLAN LEWIN – KENSINGTON
Allan joined the Club in 1982 and has been a hardworking dedicated member since day one. He has served as President on two occasions in 1991 and 2000, has been on the executive and on the current board for a number of years.
He has undertaken many voluntary rolls in the club, most notably arranging sponsors for both tournaments and our hand book. Has worked in the kitchen for over 15 years for events. He was the major driving force to supply and erect shelters around the greens and has carried out numerous maintenance jobs. He along with his wife organise, fetch and carry for our bi-annual garage sale and fundraiser. He is a regular attender at bowling tournaments and activities. When asked for anything for the Club he does his utmost to fulfil the purpose.
Ann Muir has received her Queen's Service Medal from the Governor General, Patsy Reddy at Government House.
Congratulations are extended to Ann Muir QSM from all Northland bowlers,
who was awarded Life Membership of Bowls New Zealand at their AGM held last Saturday. Ann has spent many years in administration at NZ and
Centre level, is a Coach Trainer for bowls, very involved with the Blind
Bowls organisation, former President of Bowls NZ, and former
International representative for New Zealand. She continues to play
bowls at Northland Representative level and has spent a lifetime
involved in our sport.

Congratulations are also extended to Maureen Parker of the Kensington
Club who last weekend was awarded the 'Club person of the Year' at the
New Zealand dinner and awards evening. Since coming to Northland she has been a hard working administrator for the Kensington Club and is also
currently tutor for the Northland Umpires and a registered coach.

It is nice to see people from the Northland area being recognised for
the work that they do by our New Zealand Association.

Many thanks
Gwen Lawson
27-09-19
Prostate cancer awareness and fundraising.
At Kamo BC , yesterday we turned our normal club domestic day into a " blue September event" for Prostate cancer awareness and fundraising.
We had 53 people attend , most dressed in Blue and we raised $400 to donate to the cause.
There is a group photo and then another of Laurel Wheeler and the glamour girl is Dawn Owens
Whangarei's Trevor Reader and his side of Paul Price, Steve Smith and Paul Shotter have rounded out their season on a career winning high, taking out the inaugural National Champion of Champions Men's Fours in Hastings. Read more here
Screen Shot 2019-07-30 at 6.02.17 AM
Screen Shot 2019-07-30 at 8.25.59 AM
Screen Shot 2019-07-31 at 11.12.00 AM
Screen Shot 2019-07-30 at 6.02.17 AM
Bowls Northland Awards 2021
The winners of these awards were nominated by their clubs and selected by Bowls Northland for their outstanding service and contribution to bowls during the 2020- 2021
Volunteer of the Year
Pat Warth Kensington, Jude Ganley Kensington, Robert McLean Leigh, Bruno Barnetta Mangawhai, Barrie Jones Whangarei, Laurel Jones Whangarei, Bruce Scott, Max Thurston Ruawai, Kamo and Warren McLeish Kamo.
All the volunteers were nominated by their clubs for their dedication and generosity in giving up many hours to their clubs. They take on many roles within their clubs and make a major contribution to the day to day running of their clubs.
Congratulations and thank you all for the many hours you have dedicated to your clubs.
ion to bowls during the 2020/2021 season.
Green Keeper of the Year Award Sponsored by Graeme & Diane Lawrence.
Lance Michelle, Leigh Bowling Club.
Where is the best green in Northland or for that matter north of the bridge?
Everette Darlington, NZ Sports Turf agronomist believes the recipient of this
award took up the challenge to establish a cotula maniototo green some 3
years ago and has successfully reconstructed it, a difficult task on a sand based
area.
Lance is a hard worker, dedicated to his craft, He consistently
present a high quality playing surface, is open to suggestions, attends
greenkeeper meetings and field days upskilling as he continues to learn.
Congratulations Lance and thank you all for the many hours you have dedicated to creating a high quality green.
Summerset Bowls New Zealand 2021 Club Person of the Year
Bowls Northland Administrator of the Year
Bryce Wyatt, Mamaranui Bowling Club.
Bryce has been vice president of his club for 15 years and during this time he has been a vigorous promoter of the game of bowl socially and within the Northland region.
Besides this he has held many roles within his club; greenkeeper, one man
match committee member, fundraiser (beef calves bring in the money),
maintenance man (always jobs to do), project manager. Surely there's a bed
there at the club rooms because he's not home very often! A great communicator he has earned the nickname 'Have AChat!'.
Well respected, Bryce brings the Ever-ready battery's energy to everything he does. His consistent effort and selfless commitment to his club makes all the difference.
Bryce single-handedly contributes to his club and is a truly outstanding club
member.
Congratulations Byrce, and thank you all for the many hours you have dedicated to your club
The Club of the Year - Hikurangi Bowl Club
This year's Club of the Year had 3 key priorities:
1. Finalising the sale of one of their greens and this was achieved this year.
2. Initiate an improvement plan to enhance their existing assets. I'm sure
those who have visited this club lately are impressed with the work done
by members.
3. To actively promote bowls within their community thus building up their
membership base.
The club along with Sport Northland and other sporting clubs in the area
are investigating developing a sporting hub to grow sport within their
Community.
The club has also had outstanding results this year in the Northland
Centre competitions through an improved club culture and a desire to
perform at their very best at all times.
Congratulations Hikurangi on all you have achieved during the 2020/2021 season
Team of the Year - Whangarei Mens Fours
Trevor Reader, Paul Price, Paul Shotter, Stev Smith
This team has maintained their position as one of the top 4s teams in NZ. This
year they were placed 3 rd = at the Bowls NZ National fours event.
Their experience at this level ensures they act with dignity and fair play both
on and off the greens.
Their 3rd= placing was a team effort, everyone knew their role and they
carried it out to the best of their ability. Team spirit was very noticeable.
Congratulations Whangarei Mens Fours your successful 2020/2021 season
Coach of the Year - Ann Muir, Kensington Bowls Club.
Ann commits so much time to coaching both here and with players
outside the area. She is an accredited Bowls NZ Coach and Coach
developer as well as a mentor. Ann is also the head coach for the NZ Visually
Impaired Players.
As a Representative Coach Ann coached the Northland Premier
Women's Rep team, she designed individual programmes to enable this team
to remain as one of the top 8 Centres in NZ. 'Beans in your ears,' rings out
loudly for those senior reps! Ann also held Junior skills training sessions in Whangarei for their rep players this season.
Respect, modesty, generosity and friendship are important values Ann endeavours to uphold both on and off the green
Congratulations Ann and thank you for your continued dedication to coaching Northland bowlers.
Male Player of the Year - Paul Price, Whangarei Bowls
Paul was still in his junior years when he achieved some outstanding
results at National Level.
Two third placings at Bowls NZ Nationals is nothing to sneeze at. These results
were achieved by hard work, weekly skills training sessions and by using a
coach as a mentor. He also won the Northland Junior singles for the second
year running.
In a team situation he encourages he is very encouraging and always gives of
his best. (You would have seen that in the televised match in February.)
This player also contributes to his club and the Centre in a positive way.
This player was nominated for this award by two Northland Clubs.
Congratulations Paul on your very successful year and we wish you every success in the coming season.
Female Player of the Year - Leanne Stewart, Hikurangi Bowls Club,
Leanne was a Northland Premier Women's Rep this season. The team was
placed in the top 8 in NZ.
She was a member of her club's winning pennant and interclub 7's team which
went forward to the NZ finals. At this competition she beat two Blackjacks in
the singles.
She has had an outstanding season at Centre level winning the Centre Open
pairs, Open triples, and Open 4's plus the Champ of Champ triples going on to
play the NZ Champ of Champ finals. 6 Centre triples is no mean feat.
At Club level she skipped the Champ triples.
She sets high standards in whatever she does. Her sportsmanship and fair play
both on and off the greens is second to none.
She is a committed dedicated bowler who always strives to be the best.
Congratulations Leanne on your very successful year and we wish you every success in the coming season.